Description
The "JEE 2023 Mathematics - 20 Days Free Crash Course" is a specially designed online course for students preparing for the Joint Entrance Examination (JEE) for Mathematics in 2023. This 20-day course is completely free of charge and covers important topics in Mathematics to help students master key concepts and develop problem-solving skills. The course is taught by experienced instructors who use a variety of teaching methods including lectures, interactive sessions, and practice problems.
Instructor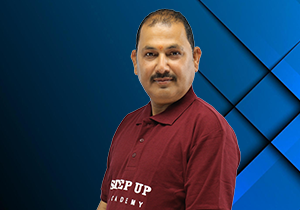 Mr. Anjani Tiwari
Expertise in Mathematics
Mr. Ajani Tiwari is an accomplished Mathematics faculty with 27 years of experience in teaching JEE students. His in-depth knowledge of Mathematics, coupled with his years of experience, enables him to provide students with the necessary tools and techniques to excel in their exams. With his commitment to teaching and mentoring, he has helped numerous students achieve their goals and pursue successful careers. His expertise and dedication have earned him a reputation as one of the most respected Mathematics faculties in the field.